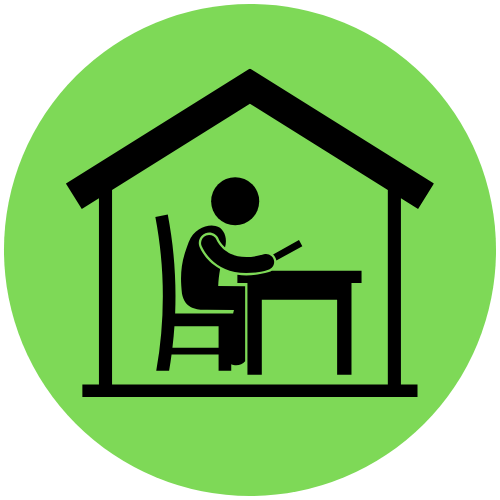 I-Connect is a FREE (self) monitoring mobile app. It's been successful in classrooms in supporting students to independently stay engaged, on-task, and accomplish their goals! The I-Connect app is completely customizable and monitoring questions can be set up for virtual learning time, chore time, and even free time.
Follow the 3-easy-steps below to get started using I-Connect, and help get your student on-task today!
Instructions for Parents & Caregivers:
Step 1: Register in the I-Connect Portal
Visit the I-Connect Portal to Register yourself as a Non-district Affiliated Mentor.
Begin by registering and creating a Mentor account for yourself in the I-Connect Portal. Next, login to the I-Connect Portal using your account. Once you are logged into the I-Connect Portal, you can create a custom self-monitoring account for your student (learn more about creating accounts in Step #2). Your student will then use the account username and password you have created for them to sign into the I-Connect Mobile App. You can return to the I-Connect Portal at any time to view you students' charts and see their progress data. In the I-Connect Portal, you can also adjust their monitoring questions or intervals when needed.  Please remember, Mentors use the I-Connect Portal and Students use the I-Connect Mobile App.
Step 2: Create your Student's Account.
Next, create your student's custom I-Connect self-monitoring account.
Watch the video below to learn more about how to decide which locations, what questions, and which intervals are best for your student to use while self-monitoring. Note that during the final account creation step, you can assign Stakeholders to your student's account. Stakeholders can view your student's progress charts, but they cannot change their self-monitoring questions or goals. This is not a required step, but it is a convenient way for teachers, caregivers, and therapists to view your student's charts and keep up with their progress!
Step 3: Download I-Connect Mobile App
I-Connect is availible on the Google Play Store and iOS App Store for tablets, iPads, and mobile devices. I-Connect can also be downloaded onto desktop and laptop devices on the Google Play Store, iOS App Store, and Microsoft Store(Windows). Click on an icon below to download the I-Connect App.
Instructions for Educators & Practitioners:
I-Connect is an evidence-based positive behavior support resource for the students and clients you work with. In classrooms it's used as a data collection tool as part of a self-monitoring intervention, but we know it can be just as successful at home. Please consider the following options to support your students or clients in self-monitoring using I-Connect:
Option #1: Share a link to this web page or the below PDF with the parents, caregivers, students, or clients that you work with. This will instruct parents or caregivers on all they need to know to set up accounts for their students. Request that they add you to the student's account as a Stakeholder so you can view their charts and see how they progress.
Click to Download PDF: How to use I-Connect at Home– an instructional guide for parents and caregivers PDF
Click to Download Word .docx: How to use I-Connect at Home– an instructional guide for parents and caregivers Word.docx
Options #2: You can register an account for yourself as either a non-school district mentor or mentor. You can then create a self-monitoring account for each of your students or clients, assigning their parents or caregivers as Stakeholders. You then only need to instruct parents or caregivers on how to download the I-Connect app, and send them their student's login credentials that you created in the I-Connect Portal. You will then need to engage in weekly meetings with your student or client to touch base on the progress data and discuss if their monitoring prompts, intervals, or questions need to adjusted. See our Training tab to learn more about I-Connect as an intervention.
Get in touch, or create an account.